2022 Award Recipients for Inaugural SPRINT Program
AgResearch is pleased to announce the award winners for the inaugural year of its new grant program, Strategic Planning Research Initiatives (SPRINT). Emphasizing the development of multi-disciplinary teams to accelerate solutions to challenges confronting Tennessee's agriculture and natural resource interests, the program will provide $100,000/year for 2 years to the successful applications. The highly competitive program involved an initial screening of 18 program concepts from which 6 were selected for full proposal submissions that were subject to an external review of experts. Read more about this in UTIA News!
Established Routes and New Destinations
Key to advancing our research goals is to continue to focus efforts on topics and initiatives we have already defined among our research strengths: One Health, Digital Agriculture, Agriculture Genomics and Synthetic Biology, and BioEconomy Advancement. UT AgResearch scientists should strive to submit at least four initiative-driven proposals.
As we advance our established initiatives, we also should look to the future. UT AgResearch is committed to supporting new faculty initiatives, with a goal of four new team initiatives in place by 2024 through an ASAP Strategic Planning Research Initiatives (SPRINT) program. The faculty-driven process will initially involve development of broad, programmatic concepts for review and selection of five to six projects for support. The six-month period that follows will be used to solidify each research team and build out a research proposal for a second, intensive panel review of the science and potential for sustainable growth. Significant investment will be directed to one to two of the concepts to gather vital preliminary data, establish a collaborative record for the team, and further refine the proposal and business model. The ultimate goal of this recurring program is to form tightly integrated, cohesive, multidisciplinary groups of researchers who are driven to advance solutions to complex challenges in agriculture and natural resources.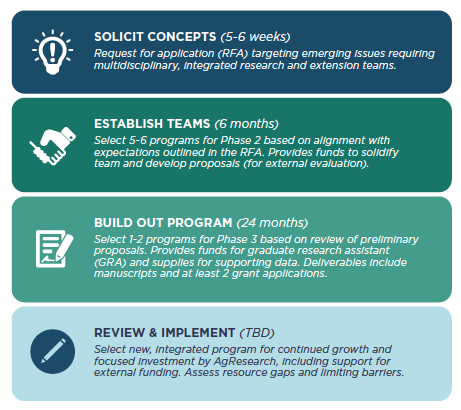 ASAP SPRINT PROGRAM: PHASE 1
Well-defined program scope (external proposal budget of $1 million+ each)
Multidisciplinary team with integrated plan of work
Emphasis on emerging issues
ASAP SPRINT PROGRAM: PHASE 2
Plan for integrated work
Clearly communicated expectations of the team
Summary of investment needs and resource gaps
Refined identification of sources of funding
ASAP SPRINT PROGRAM: PHASE 3
Continue team coordination
Generate Preliminary data
Publish team manuscripts
Submit external proposals