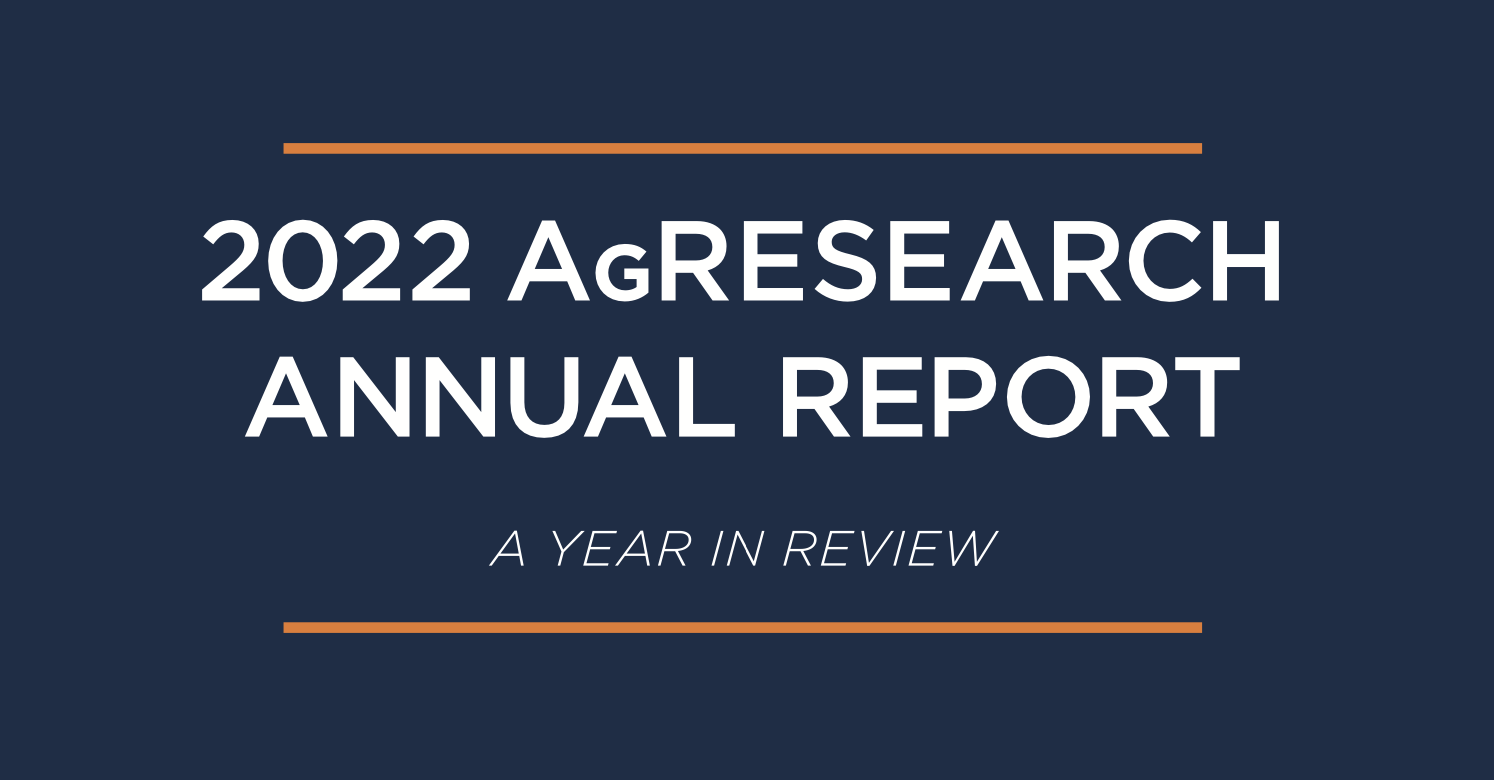 The year 2022 was filled with new opportunities, excitement, and commendable progress toward implementation of the AgResearch Strategic Action Plan (ASAP).
On behalf of the AgResearch administration, I am particularly proud of our work and grateful to receive $50 million in American Rescue Plan grant funds. This historic investment
will bring about unprecedented equipment upgrades and innovative infrastructures to our ten mission-critical AgResearch and Education Centers across the state. The resulting research innovations, along with workforce development education—including experiential learning and a platform for technology transfer—will help safeguard food security and economic prosperity in Tennessee. These innovations provide Real. Life. Solutions. to Tennesseans and people around the world by increasing the resiliency to supply chain disruptions due to natural or man-made calamities. Planning is underway, with purchases and construction on several projects to begin in 2023.
Our faculty deserve a pat on the back for highly commendable successes in securing competitive grants. The portfolio of the funding agencies was quite diverse, including federal agencies (DARPA, NASA, NSF, NIH, and USDA-NIFA), independent non-profit organizations such as the Foundation for Food and Agriculture Research, industries, and international organizations. Particularly noteworthy are the $3 million award by the International Federation of Association Football (FIFA) to Professor John Sorochan and his turfgrass team in the Department of Plant Sciences; and the $30 million USDA award of an integrated climate-smart commodity partnership project awarded to a team of researchers, Extension professionals and external stakeholders led by Professor Pat Keyser in the UT School of Natural Resources (formerly the Department of Forestry, Wildlife and Fisheries). These highly competitive grants are strong testaments to our faculty's sought-after technical expertise. They are not only conducive to fulfilling our land-grant mission but also bring pride and prominence to the Institute, the University, and the state of Tennessee.
Equally admirable are the prestigious national and international honors and awards bestowed to our faculty. The recognitions range from being named as professional Fellows or Fulbright Scholars or receiving Lifetime Achievement and Emerging Leadership Awards, to being elected as presidents of professional societies and serving on highly selective national and international scientific advisory committees.
This year also saw considerable changes in faculty capacity, primarily from retirements, and we welcomed a number of new people to the UTIA community. To remain relevant in addressing the growing needs of our constituents, AgResearch is searching for fifteen full-time equivalent research faculty across twenty-one reimagined strategic faculty positions with joint appointments. These scholars will contribute to the University's five-year $50-million initiative to recruit top tier researchers across multiple disciplines to address some of the most pressing and complex challenges of our time, including genomics and quantitative-based solutions for food and nutrition security, climate-smart agriculture, and circular bioeconomy. Once these positions are filled, UT AgResearch will pass the 100 full-time equivalent research faculty mark for the first time across more than 150 faculty with joint appointments.
It's an exciting time for UT AgResearch, and I am pleased to present to you our 2022 Impact Report
highlighting our efforts and successes.

Hongwei Xin
Dean and Director, UT AgResearch
University of Tennessee Institute of Agriculture